Kate Woods
For regular readers of Galactic Sandbox's Weekly Revolution, most likely you are aware of Kate Wood's passing last week of injuries suffered in a single car crash near her home in New Idria, CA. No doubt, a good chunk of our audience is comprised of friends, associates, or fans of Kate who are heartbroken that this vibrant and irreverent life force is no longer with us. Having known Kate for almost 30 years, I can join with many who feel that her death is all too sudden and way too soon. That said, I am grateful for her rich legacy, part of which was her conviction that politics is entwined in all the minutiae of our lives and the planet, and if we don't become masters of political forces, they will be our masters.  And she didn't mean that we just holler, "throw the bums out!" (although she did that too),  but encouraged an intelligent resistance of and alternative to the consumptive virus infecting modern civilization (of which the morally-bankrupt Donald Trumps of this world are but a symptom) that will destroy the Earth for life as we know it.  
On a personal note, I will mourn the loss of Kate's "voice," and will simply miss my good friend. And like all true companions, Kate provided a mirror (however irascible) for my own life, giving it meaning, context, and purpose.  Hopefully, we can continue Galactic Sandbox so long as it serves a good end, and one that Kate would be proud of!
Brian McMahon (Agnett Bonwitt) May 29, 2017
***********
And Then There Was One
Despite pressure from G7 leaders last weekend to endorse the historic 2015 Paris climate change accord, America's greenhouse gas emissions friend-in-chief played coy with the fate of the Earth, tweeting that he would wait until this week to decide if the U.S. will back the 195-nation agreement (Spoiler Alert – Fat chance!). G7 heads of state who intensely pushed Trump during meetings in Italy last week to reaffirm U.S. commitment to the climate agreement, expressed frustration over President Cheese Puff's "America First, Earth Last" platform. According to the Atlantic, German chancellor Angela Merkel said the discussions with Trump "had been very difficult, and not to say very unsatisfactory," adding that "here we have a situation of six against one, meaning there is still no sign of whether the U.S. will remain in the Paris accord or not." Newly-elected French President Emmanuel Macron said it was "essential for international equilibrium and the reputation of America that it remains engaged with the Paris treaty. The G7 had shown [that] issues such as climate change are not side issues that can be left to others." Update: On Sunday afternoon, the Axios news outlet citing three knowledgable sources reported that Trump has told "confidants," including EPA head hatchet man Scott Pruitt, he indeed plans to have the U.S. exit the Paris accord. (Hmm … sounds like Trump's "evolving" view of the Paris deal grew a tail and scampered back to the Cretaceous Period.)
Not Yer Grandfather's Jupiter
The first scientific results from NASA's Juno probe are in, and space agency brainiacs are breathlessly marveling at what they're calling a "whole new Jupiter," filled with Earth-sized polar cyclones, a gargantuan "lumpy" magnetic field, and swooping storm systems piercing deep into the belly of the gas giant. According to NASA, these initial findings based on Juno's 2,600-mile Jovian flyby last August 27 were published last week in the journal Science, as well as in Geophysical Research Letters. "We knew, going in, that Jupiter would throw us some curves," said Scott Bolton, Juno principal investigator from the Southwest Research Institute in San Antonio. "But now that we are here we are finding that Jupiter can throw the heat, as well as knuckleballs and sliders. There is so much going on here that we didn't expect that we have had to take a step back and begin to rethink of this as a whole new Jupiter." Juno's next close pass of the gas giant will be on July 11, when the probe will focus its scientific instruments on the planet's iconic Great Red Spot.
Lunar Bombed
Last Thursday,  NASA's Solar Dynamics Observatory, or SDO, witnessed the Moon throwing some shade in a space-based partial solar eclipse that lasted an hour. According to the space agency, our closest celestial neighbor blocked 89 percent of the Sun's face during the peak of the transit.  A much ballyhooed Earth-based total solar eclipse will be visible in parts of the US this August 21st in a 70-mile-wide ribbon of land stretching from Oregon to South Carolina. A partial eclipse will also occur that day throughout the rest of North America as well as parts of of South America, Africa, Europe and Asia.
Joining the Fray
US-New Zealand commercial space firm Rocket Lab is celebrating the first test launch of its state-of-the-art "Electron" rocket partly made of carbon fiber and equipped with engines fashioned from a 3D printer. While the spacecraft's third stage failed to reach its planned 500-km orbit above Earth, the company's founder Peter Beck hailed the mission a success anyway:
We didn't quite reach orbit — we'll work out exactly why.But we got a long, long way there. It was really a fantastic first flight.
Rocket Lab is gunning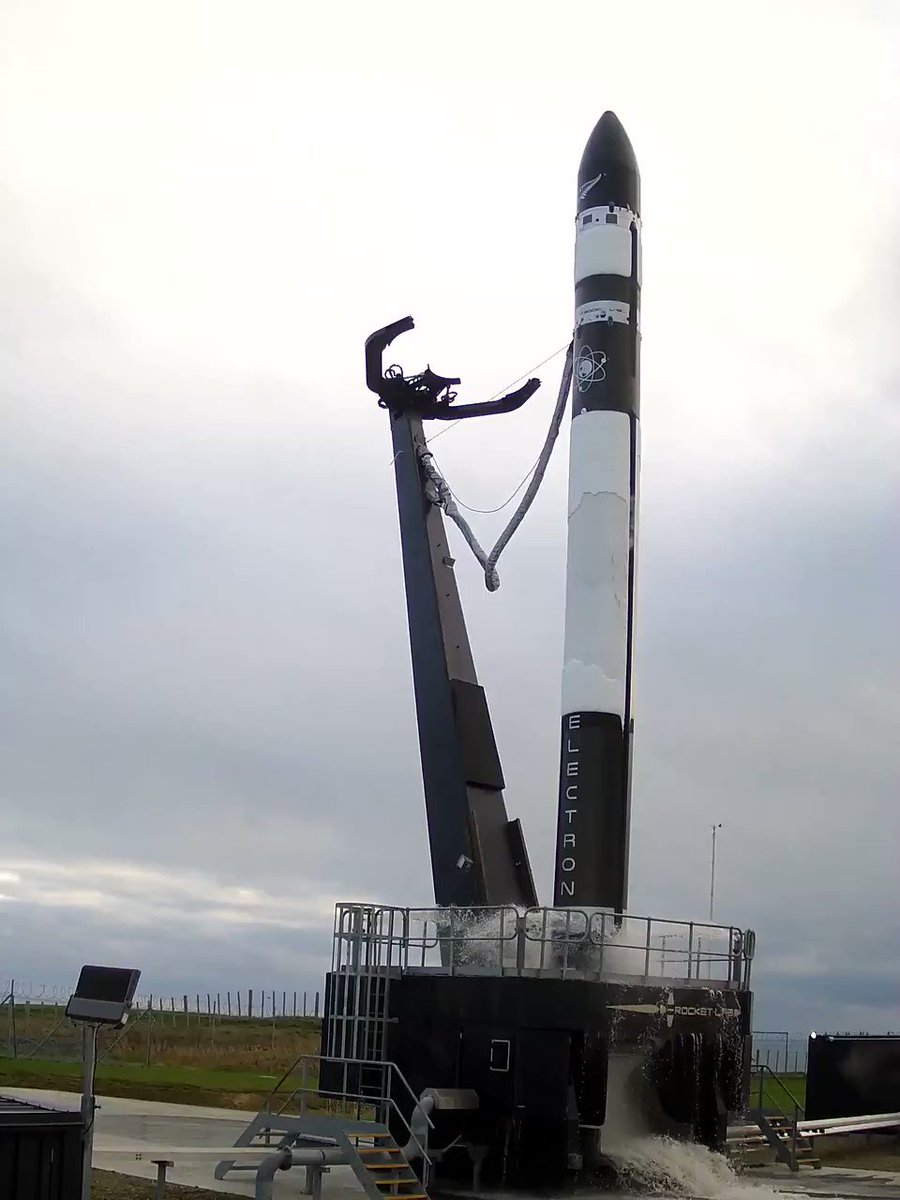 for a niche sector of the booming private satellite launch business, targeting the nano satellite market in which swarms or constellations of devices are used for weather reporting or natural disaster prediction. In fact, Rocket Lab has customers already signed up, including NASA.  "We have a very busy 2018, and a business 2019 — and we've got a lot of customers booked and backlogged so it's time to open the throttles," said Mr Beck. A second Electron test is slated for this week.